Weight-Loss Surgery Leads to Unexpected Love Story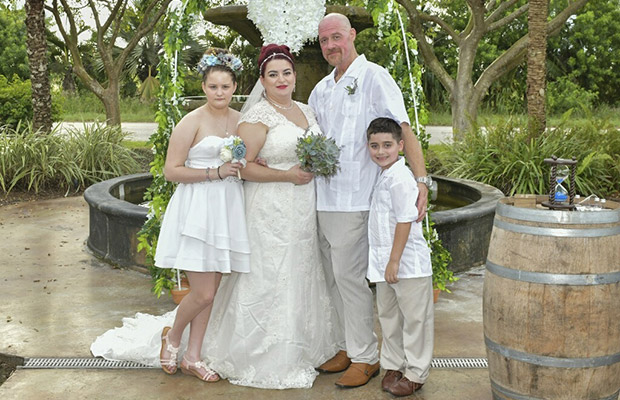 At 680 pounds, Richard Johnson worried daily that his life could end abruptly. A short walk from his driveway to his front door would leave him overcome with exhaustion. He relied on a scooter to help him get around. Even showering was challenging, so he would sit on a bath chair.
Johnson, 44, knew his best chance at losing a significant amount of weight and becoming healthy was gastric sleeve surgery. What he never expected was that his weight loss journey would also lead him to find love.
After having the gastric sleeve procedure at Jackson South Medical Center in 2019, Johnson strictly adhered to his new diet and exercised religiously. The result: he lost a whopping 480 pounds.
Johnson credits his bariatric surgeon Eddie Gomez, MD, FASMBS, FACS, for helping him turn his life around.
"I knew that I was going to die, and I would've never been able to get where I am today without the surgery," he said. "I am so thankful for Dr. Gomez. He saved my life."
With his new-found confidence, Johnson – who dropped from a size 84 to a size 34 waist – started dating again. As fate would have it, he met a woman with a strikingly similar past: Carmen Mullet also had gastric sleeve surgery with Dr. Gomez.
The two shared stories and instantly formed a connection. Mullet could relate to everything Johnson had been through.
As a night nurse, she rarely had time to prepare healthy meals, so she would eat whatever snacks she could find. As her weight spiked, her health declined.
Mullet, 36, grew lethargic. She developed high blood pressure and was often short of breath, which resulted in her needing a continuous positive airway pressure (CPAP) therapy machine to sleep.
What motivated her to make a change was her daughter.
"I was a single mother and worried that if I died, I would've left my daughter alone," Mullet recalled.
She tried dieting and exercising, but it wasn't enough. Mullet also turned to Dr. Gomez at Jackson South for help. In 2018, she underwent successful gastric sleeve surgery.
Since losing nearly 100 pounds and meeting Johnson, Mullet said she is the happiest she's ever been.
It only took one date for this couple to realize they were meant to be together. On October 12, 2020, Johnson and Mullet were married at Schnebly Winery in Homestead, with their children by their side.
Together, they maintain an active and healthy lifestyle, with their dates consisting of runs, fishing trips, visits to the zoo, and bike rides through the park.
Mullet said she continues to be inspired by her husband's incredible story of resilience and fortitude to overcome the odds. For Johnson, he believes every step of his journey – his struggle with obesity and his decision to have weight-loss surgery – led him to meet his soulmate. And for that, he is grateful.
"Before, I was miserable and completely unhappy," Johnson said. "I wanted to find a little hole to crawl into and die. Now I am healthy, happy, and madly in love. Life has never been better. "