Gastric Sleeve Surgery Gives 21-Year-Old a New Beginning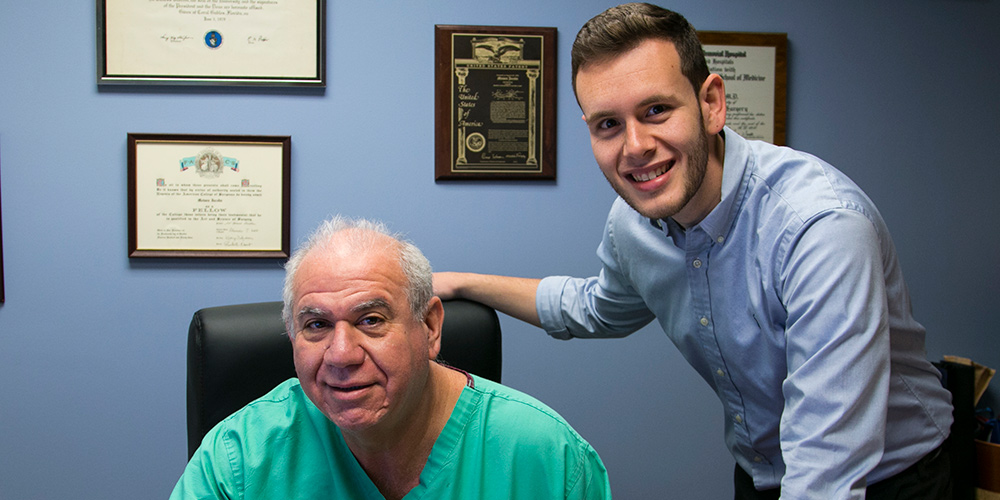 During the summer of 2016, Robert Toledo, was on a trip to Washington, D.C., when he realized that walking through the historical sites was particularly arduous. He grew fatigued quickly and even tying his shoes was challenging.
"It was my second year of college and I gained a lot weight from the stress of school," said Toledo. "I had to Uber everywhere in D.C. because I would quickly feel lethargic."
Toledo had been overweight his entire life, but by that summer he weighed 297 pounds at six feet tall. Making matters worse, he was pre-diabetic, had high blood pressure, and was just 20 years old.
"I was supposed to be living my best years and I knew I was not looking my best," said Toledo. "I knew I could do better."
The Hialeah resident was becoming impatient as he had to prioritize work, school, and sleep over the gym. He was starting to lose hope.
He finally allowed himself to regain faith in having a chance to reset his life when his neighbor's granddaughter told him about her experience with bariatric surgeon Moises Jacobs, MD, from Jackson South Community Hospital. Toledo met Dr. Jacobs shortly after returning from his vacation in Washington.
During his appointment, Toledo learned about gastric sleeve surgery – and that he would be a great candidate for it.
"I was immediately convinced that Dr. Jacobs was the right person to do the surgery," said Toledo. "I appreciated his humility and he conveyed a confidence that made me comfortable to have this second chance."
As Toledo prepared for his weight-loss surgery scheduled for mid-December 2016, his determination led him to slowly change his lifestyle. He stopped eating out, prepared his own meals, and started being more physically active. He came to understand that surgery was a catalyst to weight loss, but that the lifestyle change was entirely up to him.
"There's a stigma that might make people my age embarrassed, but it's more embarrassing to display yourself as overweight," said Toledo. "When you are at a point of no return, it's very beneficial – it changed my life 100 percent for the positive."
The bariatric surgery was a success. The very same day, Toledo was walking around the hospital surrounded by his supportive family.
"I had a positive experience with the staff at Jackson South," said Toledo. "The hospital amenities made me feel like I was in a hotel with top-quality care."
Now, a little more than a year after his surgery, Toledo, has more confidence and energy, and works out in the gym three to four times a week. He has been able to enjoy outdoor activities that he couldn't participate in due to his weight – such as biking more than 20 miles, an 8-mile hike in the Everglades in ankle-deep water, and spearfishing.
"I started seeing the benefits of weight loss which fueled my energy for life and self-esteem," said Toledo. "Small, everyday tasks like tying my shoes became easier."
More than one-third of American adults are obese, as determined by an individual's Body Mass Index (BMI), according to the Centers for Disease Control and Prevention (CDC). Bariatric surgery helps people change their physical appearance by shedding pounds, but it also has shown to help them mentally.
"The younger they are, the easier it is that it changes their life psychologically – it's incredible," said Dr. Jacobs. "Robert was shy and now he comes here more confident."
Toledo graduated from Florida International University with an undergraduate degree in chemistry and is currently applying to medical schools. In the meantime, he's shadowing the doctor he now idolizes: Dr. Jacobs.
"I shadow Dr. Jacobs now to learn more about bariatric surgeries," Toledo said. "He is in the business of changing lives; I hope to be half as successful as him."
To date, Toledo has lost about 120 pounds. He's been able to maintain a weight of 180 pounds – a first for him as he has never been able to keep a resolution to lose weight.
For his part, Jacobs enjoys seeing patients like Toledo living their best lives after having weight-loss surgery.
"This is the most gratifying surgery that exists in the world," said Dr. Jacobs. "It brings people happiness and health."